安大略省监察员办公室
网站地址:https://www.ombudsman.on.ca/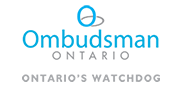 FAQ from Ombudsman Ontario:
WHO/WHAT IS THE OMBUDSMAN OF ONTARIO?
The Office of the Ombudsman of Ontario was established in 1975, under the Ombudsman Act. The Ombudsman is an impartial officer of the Ontario Legislature, independent of the government and all political parties, who is appointed by an all-party committee of the Legislative Assembly every five years.
谁/安大略的监察员是什么?安大略省监察员办公室是根据《监察员法》于1975年成立的。监察员是安大略省立法机关的公正官员,独立于政府和所有政党,由立法议会全党委员会每五年任命一次。
The Ombudsman is Mr. Paul Dubé , who began his term on April 1, 2016.
WHAT DOES THE OMBUDSMAN DO?
The Ombudsman resolves and investigates more than 20,000 public complaints every year about Ontario government organizations and municipalities, universities and school boards, as well as French language services and child protection services. The Ombudsman recommends solutions to individual and systemic administrative problems. Read about the Ombudsman's values, mission and vision, and read about the type of work we do.
申诉专员做什么? 监察员每年解决和调查有关安大略省政府组织和市政当局,大学和学校董事会以及法语服务和儿童保护服务的20,000多个公共投诉。监察员建议针对个人和系统性管理问题的解决方案。阅读有关申诉专员的价值观,使命和愿景,并了解我们所做的工作类型。
WHAT CAN THE OMBUDSMAN INVESTIGATE?
The Ombudsman can investigate complaints about Ontario government ministries, corporations, agencies, boards, commissions and tribunals, with some exceptions. The Ombudsman can also investigate complaints about all of Ontario's municipalities, publicly funded universities and school boards. Check the list of Who We Oversee to find out whether we oversee a particular organization.
申诉专员可以调查什么? 监察员可以调查有关安大略省政府各部,公司,机构,董事会,委员会和法庭的投诉,但有一些例外情况。申诉专员还可以调查有关安大略省所有直辖市,公立大学和学校董事会的投诉。查看"我们监督的人"列表,以了解我们是否监督特定的组织。
更多信息请前往安省政府独立巡查办公室 https://www.ombudsman.on.ca/